← Events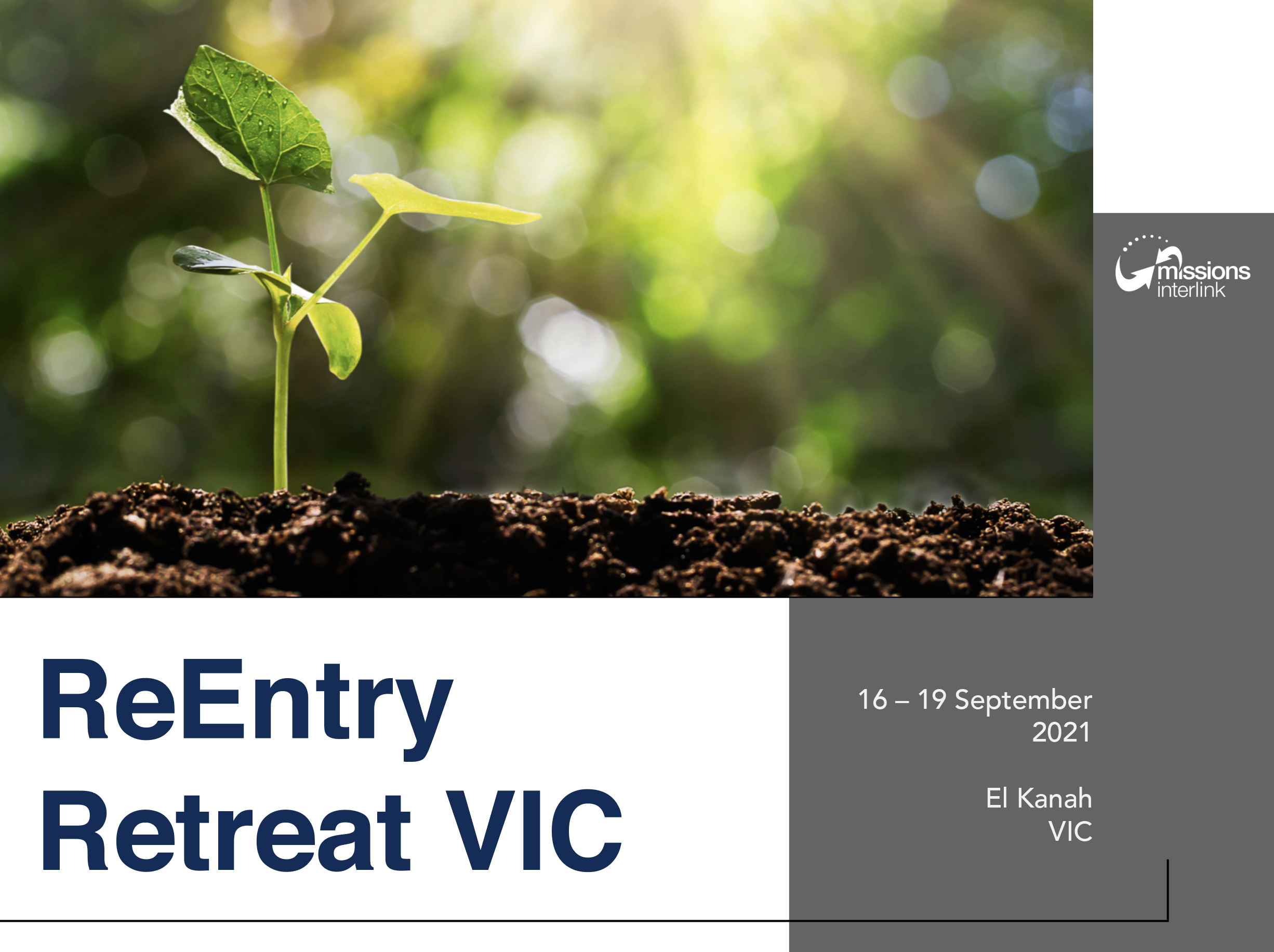 16 – 19 September 2021
El Kanah, VIC
ReEntry Retreat VIC
Registration is close but please feel free to contact Dawn Taylor at reentryvic@missionsinterlink.org.au if you wish to be waitlisted in case a spot has opened.
You can expect to be heard, understood and appreciated by others with similar experiences.
You will be offered the opportunity to recognise and acknowledge how your experiences have enriched and changed you.
Some cross-cultural workers will be in transition from one location or position to another. Others find it beneficial to attend a few months or even several years after they leave their field of service.
The retreat is conducted by experienced cross-cultural workers from various fields and agencies. Throughout the retreat, the facilitators will be available for informal sharing and prayer.
Dates
16 – 19 September 2021
Thursday 4 pm to Sunday 4 pm
Costs
GST Free
The following cost is for MI Members and Associates only*
*Individuals who are part of an organisation, church or ministry that is a Member or Associate of Missions Interlink, see here for the list. To join MI, click here.
| | |
| --- | --- |
| Single (18+) share | 570.00 |
| Single (18+) | 705.00 |
| Couple | 1,110.00 |
| Child (5-17) | 515.00 |
Non-refundable registration deposit per person $100
Cost per person includes all meals, linen and accommodation. Transport and personal items are not included.
Registration
Registration is closed. Please feel free to contact Dawn Taylor if you wish to be waitlisted in case a spot has opened.
Cancellation Policy
Your deposit is non-refundable if registration is cancelled.
Venue
El Kanah
975 Buxton Road, Marysville Victoria 3779
A unique blend of a bushland setting and modern facilities.
Please ask us about transport options from Melbourne Airport to Marysville (106 kilometres) before booking interstate flights.
Contact
Please contact Dawn Taylor, reentryvic@missionsinterlink.org.au
Phone: 03 9736 4414 | Mobile: 0425 059 666